Shoulder Sash System by Lunatus
General Informations
On Xaleas, Shoulder Sashes can be improved up to an absorption rate of 25%. Starting from an absorption rate of 19%, the shoulder sashes will sparkle like weapons and armours from +7-+9. There are four different grades of quality: Basic (1% Absorption Rate), Fine (5% Absorption Rate), Noble (10% Absorption Rate) and Custome (11-25% Absorption Rate).
The NPC that has everything to do with Shoulder Sashes is Theowahdan. He offers you three possibilities: Crafting, Combination of Shoulder Sashes and Absorption of Bonuses.
Shoulder Sash Crafting
You can craft the four standard sashes by usind silk fabrics and fine cloths
The required silk fabrics can be exclusively be droped from chiefs and their chests
Theowahdan offers you the possibility to change 200x Green Potion (L) for 3x Fine Cloth
Combination
You can only combine two sashes with the same grade of quality with each other
Combination can fail
In that case the upper sash (sash 1) will not be destroyed in that progress, only the bottum one (sash 2)
Sash 1 will remain on the same grade as it was before
The upper sash will remain in any case and so the absorbed bonuses if need be
The sashes that currently are being used will be highlighted blue in your inventory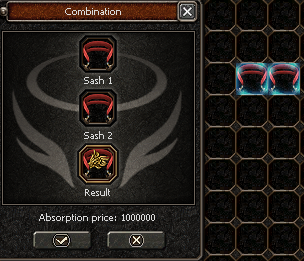 Absorption of Bonuses
The absorption of bonuses has a success rate of 100%
During the absorption process will a specific amount of bonuses from the item be trasferred onto the shoulder sash
The amount of bonuses that will be absorbed depends on the absorption rate of the sash
When improving the grade of a sash, that already has absorped an item, the values of the absorbed bonuses will be re-calculated
Yet again, will the chosen sash and item be highlighted blue in your inventory
Bonus values will be rounded of. When you receive mathematically a value of 12.9, the sash will absorb 12% and not 13%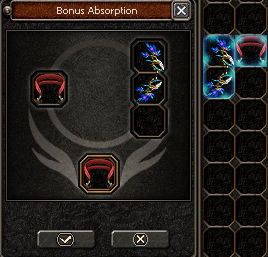 Diversity of Shoulder Sashes on Xaleas
Currently there 16 different Shoulder Sashes available on Xaleas.